Store Hour:M - F 8 AM - 4 PM, Sat. 9 AM - 4 PM

A quality product from TOTO, the washlet can make your bathroom stand out from others.
With features such as dryers, warm water, and deodorizers, washlets are an advancement in the way we use the bathroom. TOTO also makes a travel size washlet for vacations and trips around the globe!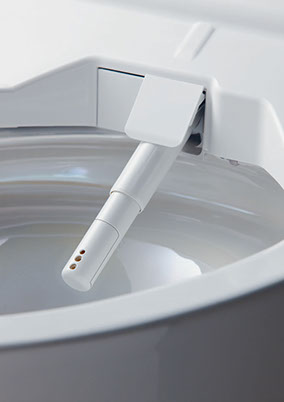 HOW DOES THE WASHLET WORK?
The Washlet is designed to introduce you to a level of unprecedented comfort, while delivering on the promise of maximum cleanliness. At your command, an integrated, self-cleaning nozzle extends to release a warm, soothing stream of aerated water to provide the ultimate in personal cleansing.

In addition to the basic functions such as back wash and bidet, ① automatic power saving function ② deodorizing function ③ heating toilet seat function ④ self cleaning function (nozzle washing before and after use) ⑤ warm air dryer function ⑥ primitive function such as spraying mist (tap water) on the bowl (making it harder to stain about 80% than the dry state). Also, the automatic opening and closing lid and the ewater + (see below) function are added to the high function model (S300e, S350e).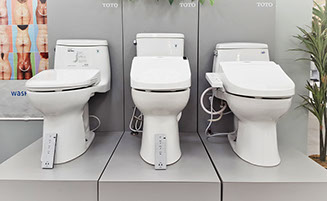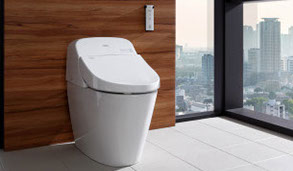 C100
Entry Model. The operating part is attached to the sleeve of the toilet seat.
C200
Space-saving of the C100. In addition to operations such as washing, temperature control, etc. are also performed by remote control. Remote control is hung on the wall, easy to operate.
G400
Unlike the seat type, the washlet and the bowl are integrated. There are many auto functions such as opening and closing the lid. All features can also be operated with remote control, without touching the toilet.
S300e / S350e
Always keep the toilet clean with ewater +, reducing the labor of cleaning. Also, since the hot water uses an instant heater, the seat is that much more slim than washlet with the water tank.



Use Different Washes
The wonder wave function realizes a powerful detergency while having a small amount of water according to the polka dot firing system.
Big polka dots bring plenty of sensation, a small polka dots bring strength, ecology and washability.
Depending on your mood you can use different washes.
Powerful Deodorizing
It strongly deodorizes the odor where the special filter is concerned, and does not give discomfort to the next person.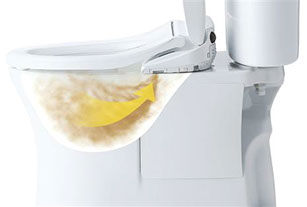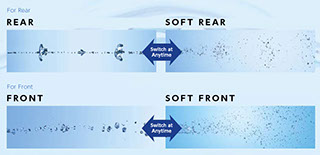 Clean Nozzle
In addition to self cleaning to wash the nozzle with tap water before and after using "Washlet ®", even e water / plus will automatically clean the inside and outside of the nozzle, so cleanliness lasts long.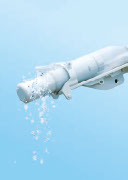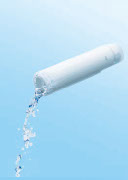 Electrolyzed water is a proven disinfectant used in food preparation and cleaning. Using the incoming water supply, a pre-mist wets the toilet bowl surface aiding in the elimination of waste approximately 80% better than a dry bowl. After each flush, TOTO's eWater+ mists the bowl with electrolyzed water, reducing the need for harsh cleaning chemicals.